Published on 2007-04-17 23:21:52
To say that people have been less than pleased lately with Ultimatebet would be an understatement. From major software snafus to poor customer service to completely re-organizing their tournament schedule; they just can't seem to do anything right. Consider this recent announcement a step in the right direction.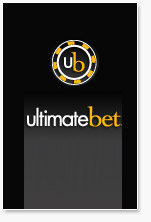 Ultimatebet just announced that starting this Wednesday, they are going to be adding a $100 rebuy tournament to their schedule, starting at 8:30 pm EST nightly. Even better, the tournament will have a $20,000 guarantee, except for Sundays, when it will be a $500 buy-in tournament with a $75,000 guarantee. The nightly tournament and especially the Sunday tournament should be a big hit with tournament players, and I expect both to do really well.
As long as Ultimatebet honors the guarantees without cancelling any tournaments, this will turn out to be an extremely smart move, aimed at luring some of their higher limit players back into the fold. Ultimatebet has been pretty much a ghost-town as of late, especially after the company canned many of their spokespeople. You are hard-pressed to find anybody recognizable playing on the tables. A big reason was the recent shuffle of tournaments, with Ultimatebet mysteriously removing and replacing some of the most popular tournaments online.
Hopefully this is just the beginning for Ultimatebet, and they continue to add more tournaments with guarantees. This is the best chance they stand of luring back the droves of players who have fled in recent months.
--
Filed Under:
Poker Room News