Published on 2007-04-17 00:15:42
James "jcamby33" Campbell took down the Pokerstars Sunday Million on Sunday, taking home an even $180k after chopping the event two-handed and besting "chick x" heads-up. As per Pokerstars policy, the two were left playing for $30,000. The final hand came as "chick x" pushed all-in with Q J, and "jcamby33" called instantly with pocket Kings. The board brought no help to "chick x", and "jcamby33" took down the event. "Jcamby33" is a well-known online player, who can frequently be seen playing the higher buyin tournaments on Pokerstars and other sites.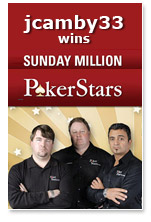 James did receive a bit of luck at the final table, especially involving a hand with "jonnybsting", who endede up going out in 5th place. At the time, chick x had a monstrous chip lead with $41.7 million in total chips, and jcamby33 had just $11.2 million in chips. Jcamby33 was in the small blind with Q10, and decided to make a play on the short stack in the Big Blind, who just happened to wake up with pocket kings. The flop came J J 6. If Jcamby33 lost this hand, he was essentially out of the tournament, given the stacks. However, he received runner runner tens, and ended up taking down the pot, and essentially never looked back from that point on.
Another interesting thing to note about this tournament was the fact that it received 7109 entrants and had a prize pool of just over $1.4 million dollars. This is significant because after UIGEA was introduced, the number of players dropped off significantly in the Sunday Millions tournament. Weeks and months have gone by, and more ways to get money online have popped up, and it now seems like we are back to where we were before the new legislation went into effect. With the World Series of Poker approaching, I expect these numbers to increase even more as interest is heightened in poker.
Technorati Tags:
jcamby33
--
Filed Under:
Online Poker Tournament Results