Published on 2007-04-14 00:27:39
Poker King Blog and Texas Holdem King have teamed up for a great offer.
In order to increase activity on their message board, Texas Holdem King has initiated a "pay-per-post" scheme.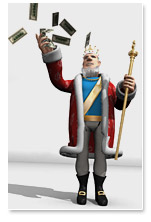 For every quality post that you make on their message board, you will receive 10 cents that will go into your account. If you start a new topic or post a new blog entry, you will receive 20 cents. After you have accumulated $5 in your account, you are able to process a withdrawal, which will be processed within 24 hours by Texas Holdem King staff. Let's say that you withdraw $10. Within 24 hours, $10 will be deposited into your Full Tilt Poker account, regardless of whether or not you have ever deposited there. This is a great way for people to get a bankroll going, if they have no way of getting money onto Full Tilt Poker.
Further, Texas Holdem King is offering DOUBLE the payout if you sign up for a Full Tilt Poker account through one of their affiliate links! So, you will automatically get 20 cents per message board post, and 40 cents for a new topic / blog post. All that they ask at Texas Holdem King is that the posts be unique and useful. They reserve the right to reject posts if you are obviously just posting to raise your post count, and not really contributing anything to the conversation.
There are no strings attached. For full details, please head on over to the Texas Holdem King Pay Per Post page, located here:
Pay Per Post
--
Filed Under:
Poker Bonus Promotions