Published on 2007-04-10 21:58:24
Police descended on a major poker game operating in a home in Roswell, Atlanta yesterday, following a six month investigation into commercial gambling taking place in the area.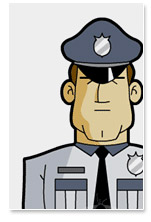 27 people were arrested in the raid, including two women who were hired to serve drinks to the players at the club.
The operation was fairly big, with a minimum $10,000 buyin just to enter the house, and a complex policy of needing to apply for invitations to the game online.
Police first began their investigation after neighbors complained about the high amounts of traffic driving to and from the game. Police also announced that they had seized two guns and 200 pills of ecstasy in the raid.
This raid in Atlanta comes a few months after another major raid in Dallas.
--
Filed Under:
Random Poker News