What is Daniel Negreanu's Net Worth?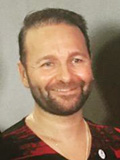 Name: Daniel Negreanu
Affiliation: Pokerstars, Full Contact Poker
DOB: July 26th, 1974
Daniel Negreanu currently has a net worth of an estimated:
$20,000,000
Information:
Daniel Negreanu is one of the most popular poker players in the world, if not the most popular.
Negreanu is one of the few poker players who has managed to translate his popularity in the poker world (over 400,000 Twitter followers and large crowds wherever he goes at live events) into the mainstream, as Negreanu frequently appears in movies, music videos and in mainstream news interviews.
Daniel Negreanu managed to parlay his likeable nature into a lucrative sponsorship deal with Pokerstars. Back in 2007, Negreanu was a free agent and his services were aggressively sought by both Pokerstars and Full Tilt Poker. This surely helped to drive up his asking price, and in June of 2007, Pokerstars announced that they had retained Negreanu's services. Daniel has served as the face of Pokerstars ever since, and is surely being compensated extremely well by the multi-billion dollar company.
Negreanu's value to Pokerstars was increased thanks to Fullcontactpoker.com, a poker message board forum and blog that continues to be run to this day. As part of the deal, Pokerstars agreed to merge with Full Contact Poker's online gaming business.
While Amaya, Inc. does not publicly disclose the money that it spends on each individual sponsorship deal, there is no doubt that Negreanu earns a minimum of $1 million/year from his deal with Amaya. Whispers put the amount at closer to $3-$4 million a year, which would make put sense given Negreanu's stature in the poker community and Amaya's value. Negreanu communicates regularly with many in the poker community and has been used by Amaya, Inc. to try and explain some of the company's more unpopular changes to the community.
-
Daniel Negreanu has over $32 million in total lifetime tournament cashes, with his largest cash coming in the $1,000,000 BIG ONE for ONE DROP event, where he finished second for $8,288,001. To give you an idea of Negreanu's bankroll, he reportedly had 87% of himself in that tournament. Other prominent poker players who participated in that event had well less than 50% of themselves, so this should give you an idea as to the size of Negreanu's bankroll. In fact, Negreanu has said in the past that he has more than enough money to never have to "work" again.
Negreanu was a fixture in Las Vegas' biggest cash games for a number of years before becoming more involved in other ventures. In a world where million dollar bankroll swings were a common occurrence, Negreanu had the confidence and bankroll to participate.
While other players have fallen victim to pit games and sports betting, Negreanu seems to have a good head on his shoulders when it comes to his money.
-
Negreanu is part of the "Founding 75" - a small group of people who used their influence to drum up season ticket deposits for the NHL's new franchise in Las Vegas. According to reports, Negreanu is currently mulling over the possibility of purchasing a minority stake in the new club.
-
Daniel Negreanu is quite opinionated and outspoken about certain issues. For the most part, members of the poker community applaud Negreanu for his honest nature. While many other poker pros are quite guarded about their lives, Negreanu has always shown a willingness to remain open.
The page last updated: August 1st, 2016
--
The net worth pages are for entertainment purposes only - the information on these pages is speculation and shouldn't be assumed as being accurate in any way. If you want accuracy, talk to Daniel Negreanu's accountant.