Titan Poker Offering a 200% Bonus of up to $1,000
Published on 2011-04-18 19:44:00
Titan Poker 200% Bonus Code
-
THEKING
in the hours and days after "Black Friday", many online poker rooms that don't service American players moved very fast to capitalize on the troubles that Full Tilt Poker and Pokerstars were facing.
One of those rooms was Titan Poker, who quickly unveiled a number of player friendly promotions.
One of those promotions was the "Black Friday" initial sign-up bonus, in which a new customer at Titan Poker can qualify for a 200% bonus of up to $2,000.
This bonus is available to anybody who hasn't already deposited on Titan Poker.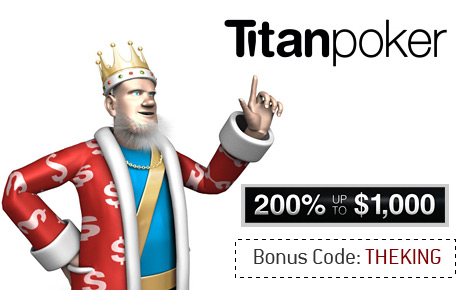 Click Here to Visit Titan Poker
Here is how you can qualify:
1. Download the Titan Poker software.
2. Enter
THEKING
when prompted for a
Titan Poker Bonus Code
. This will lock you in to the special Black Friday offer of a 200% bonus of up to $2,000.
3. Deposit real money into your Titan Poker account. Remember - the size of your initial deposit on the site determines the size of your bonus, so make that first deposit count!
4. Play in real money games (cash games, SNGs and MTTs).
That's it! For every 330 points that you earn, $10 of your bonus will be released. When a portion of your bonus is released, it is yours to do with whatever you please. You can withdraw this money or put it to work at the tables.
That's it! Titan Poker will give you up to three months to earn as much of your bonus money as possible.
Best of luck at the tables, and be sure to have fun!
Titan Poker Black Friday Bonus Code
-
THEKING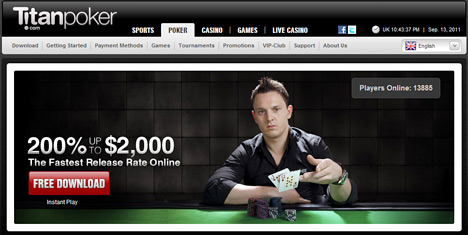 Click Here to Visit Titan Poker
--
Filed Under:
Poker Bonus Promotions