Review of Pokerstars
Published on 2009-02-24 05:00:41
Room:
Pokerstars.com
Ranking:
10/10
Click Here To Visit Pokerstars.com
Review:
Pokerstars is the largest online poker room in the world, and for good reason. In my opinion, their site and overall operation is absolutely flawless in its execution.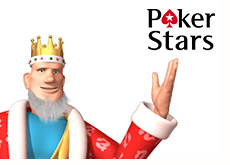 The site is by far the most player-friendly of all of the "big" online poker rooms.
Not only do they have the biggest player base of any site online (by a multiple of at least 2), but they also have the best customer service and most player-friendly promotions.
Let's start with the massive player base that they have.
According to Pokerscout.com, Pokerstars has almost 40,000 real-money cash game players playing on its site simultaneously during its peak hours. This is more than twice as much as their next closest rival, Full Tilt Poker (15,500).
What does this mean to you?
It means that you will always be able to find a game on Pokerstars. Whether you are from Iceland or Germany or Russia or Australia, you will find yourself with many different cash game tables, SNGs and MTTs to play at during any time of the day.
The large player base also means very large tournament prize pools, as well as a dizzying array of different cash game and tournament options.
So Pokerstars is very big. What else?
How about their legendary customer service? This is probably what most distinguishes Pokerstars from their competition. They just can not be touched on this point.
Don't believe me - try emailing the customer support staff at Pokerstars, and see what kind of a response you get, and how fast you receive the response. You will be blown away, I can almost guarantee it.
So Pokerstars is very big and has great customer service. What else?
How about their dizzying array of different promotions?


Pokerstars has:
-The Sunday Million (which has grown into an absolute monster and is by far the largest weekly poker tournament in the world)
-The PCA
-The WCOOP (World Championship of Online Poker)
Pokerstars also hands out hundreds of seats to the World Series of Poker every year.
When it comes to player-friendly promotions - Pokerstars just can't be topped.
What else do I like about Pokerstars?
1. A wide selection of different game offerings. RAZZ, HORSE, Limit Hold'em, Pot Limit Omaha, No Limit Hold'em - if you have a favorite poker game, then there is a very good chance that Pokerstars offers it.
2. Many different deposit and withdrawal options.
3. Customizable software.
4. Ability to chop tournaments and SNGs.
5. Ability to sell W$ and T$.
If you are interested in signing up for Pokerstars and want to qualify for a 100% bonus of up to $600, then you need to do two things:
1. Enter
POKER-KING
when prompted for a Pokerstars marketing code.
2. Enter STARS600 when prompted for a Pokerstars bonus code.
That's it! You will now be eligible for a 100% initial deposit of up to $600. Remember - the size of your INITIAL deposit determines the size of your bonus, so be sure to make the first bonus count!
Best of luck on the tables, and congratulations to Pokerstars for earning a perfect rating from us!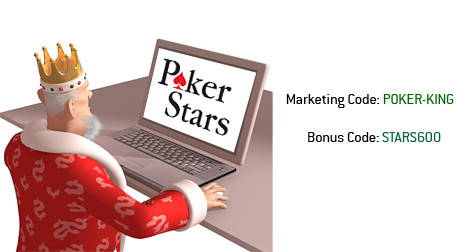 --
Filed Under:
Poker Room News