Pokerstars For The Mac
Published on 2009-02-06 23:54:27
Pokerstars For The Mac Download Link
-->
Click Here

Every single day, more and more people are making the jump from using a PC to using a Mac.
Even the King made the switch, after many loyal years of using a PC. At the end of the day, Macs provide the features and overall stability that the average PC just can't.
Pokerstars was one of the first major online poker rooms to provide their users with Mac compatible software.
They didn't just tell their Mac users to buy Windows emulation software like some other rooms - they actually spent the money and developed a Mac software package from top to bottom.
And why not? Mac users account for a very large percentage of the poker playing public, and this number is just continuing to grow by the day. You can't deny the popularity of Apple and its products.
How do you install Mac-compatible Pokerstars software on your computer? It's easy.
First off,
click this link
to go to the Pokerstars download page for Mac users.
The Mac Pokerstars software package is about 22 MBs in size.
Simply click the "Download" link on the Pokerstars Mac Poker Download page. The download should start automatically.
After this has been completed, you should see the install file (PokerStarsInstall) sitting on your desktop. Doubleclick this file, and then drag the Pokerstars icon into your Applications folder.
After dragging the icon into your Applications folder, double-click on the Pokerstars icon in your Application folder. This will start up the software package and allow you to connect.
At this point, you can then go about setting up your account and taking advantage of everything that Pokerstars has to offer.
Note: you will be prompted for a Pokerstars Marketing Code during the sign-up process. Simply enter
POKER-KING
in order to qualify for a 100% bonus of up to $600 when you decide to deposit.
You are not missing out on anything by playing on a Mac - all of the features that are available to PC players are also available to Mac users.
Best of luck at the tables! I have included the recommended requirements (from
Pokerstars
) for
Mac users
below:
-DSL or Cable Modem Connection
-100 MB disk space
-1 Gigabyte of RAM or more
-1024x768 Screen Resolution or Higher
-PowerPC G4 1Ghz or faster, PowerPC G5 or Intel Mac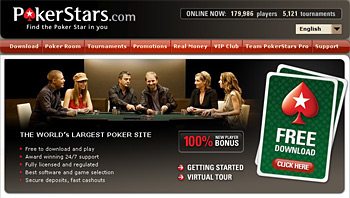 --
Filed Under:
Miscellaneous Poker Articles