Pokerstars Marketing Code for 2009
Published on 2008-12-24 09:37:22
2009 Pokerstars Marketing Code
-->
POKER-KING
Since Party Poker pulled out of the US market a few years ago, Pokerstars has been the biggest online poker room in the world.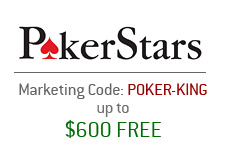 Over the past year or so, the gap has grown tremendously between Pokerstars and Full Tilt Poker (the #2 room in the world). A few days ago, Pokerstars had over 200,000 players on their site at the SAME TIME. Not only that, but they also had 30,000 real-money cash game players on their site simultaneously. Pokerstars, without a shadow of a doubt, is the 800 pound gorilla of the online poker industry.
You may be reading this article and wondering - why should I sign up for an account at Pokerstars? Why are they so popular?
Here are five of the reasons why Pokerstars is so popular:
1. They have the largest client base by far. This may seem unfair to the other poker rooms that Pokerstars is competing with, but people want to play where the most action is. Pokerstars, as mentioned, has hundreds of thousands of players logged into their site at the same time. This is an incredible selling point for the room, as you never have to worry about being able to find a game on the site. If you can't find a game on Pokerstars, then you likely aren't going to find a game anywhere else.
2. Customer service. The customer service at Pokerstars is legendary. The customer service representatives at the company really go out of their way to make the customer feel special. There is nothing worse than sending an email and not receiving a response for 24-48 hours (if at all). Under normal circumstances, the Pokerstars support staff will answer your question in minutes, not days.
3. Game Selection. Do you prefer heads-up No Limit Hold'em cash games? Pokerstars has you covered. Do you prefer full-ring Pot Limit Omaha? Pokerstars has you covered. Do you prefer turbo six-handed SNGs? Pokerstars has you covered. Do you prefer weekly tournaments with over seven figures in guaranteed prize money? Pokerstars has you covered there as well. Whatever your game is - Pokerstars offers it.
4. Bonuses. Pokerstars gives their new customers SIX months to fully earn their 100% bonus - most competing sites only give their players three to four months. Six months is more than enough time for even a weekend player to fully earn their bonus. When prompted for a Pokerstars Marketing Code during the sign-up process, be sure to enter POKER-KING. When prompted for a deposit code, enter STARS600 to qualify for a 100% sign-up bonus of up to $600.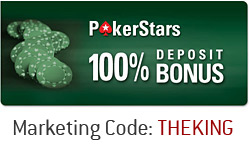 5. Promotions. Pokerstars is the nuts when it comes to exciting promotions. The Turbo Takedown. The PCA. The $500k Guaranteed, $11 buy-in tournament that is taking place on December 28th. The WCOOP. The Sunday Million. The list goes on and on. Pokerstars is always offering something of value to their users, which is why so many new customers flock to their site. Word of mouth travels fast.
If you are just getting started in the world of poker, then Pokerstars is a great place to learn the game. Experienced players will also find plenty to like at Pokerstars.
Don't forget to enter the 2009
Pokerstars Marketing Code
of
POKER-KING
to qualify for your 100% bonus.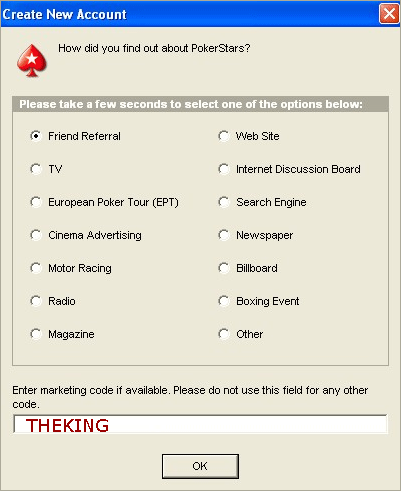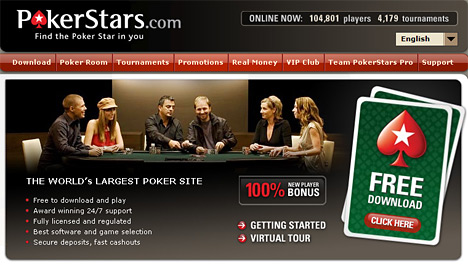 --
Filed Under:
Poker Bonus Promotions