Published on 2007-08-13 23:53:38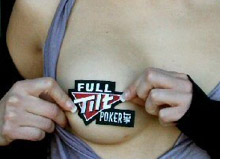 There is no denying it. Today is an exceptionally slow down in the world of poker. No tournaments to cover. No salacious gossip. No new "busto" rumors. Today we thought we would switch gears for a little bit and break down for our users how the Full Tilt Poker bonuses work, and what is the best way to work off your bonuses.
First off, new signups at Full Tilt Poker receive a 100% bonus up to $600. So if you sign up for an account and deposit $600, you will receive $600 in a "bonus" account. Now, this money isn't yours just yet. You have a certain length of time in which you can "work off" your bonus. Money is released in small increments, so it is possible that you could work off say, half of your bonus in the time allocated.
When it comes to ring games, you work off your bonus like this. For each dollar raked from a pot, every player who was dealt cards for that hand will earn one point. If less than one dollar was raked, you will earn a partial point. You can earn up to 3 points for one hand. Each point is worth 6 cents to you in terms of bonus.
For tournaments and sit and go's, you will receive 7 Full Tilt Points for each dollar that you pay in fees. So if you play a $10 + $1, you will receive 7 Full Tilt Points, which is worth 42 cents in bonus money. There is no cap on the amount of Full Tilt Points that you can receive.
You earn back the bonus in 10% increments of your initial bonus, or $20, whichever comes first. You have up to 120 days to fully earn your bonus. After this date, the unearned bonus will be deleted from your account.
There is no one best way to earn your bonus. Play whatever you are comfortable playing. If you are comfortable playing cash games, then play cash games. If you are comfortable multi-tabling SNG's, then multi-table SNG's. If you try to earn back the bonus in the fastest way possible, you will likely end up losing your initial deposit anyways. Try to play at stakes that you are comfortable in, that way you can maintain your initial deposit and earn 100% of your bonus.
--
Filed Under:
Poker Bonus Promotions